If you're a Facebook user, you may have noticed some changes to the types of information that you can use and share today.
The situation is constantly evolving but we'll take you through what we know and where you can go to get the information you need.  
Facebook and Google have recently been in discussions with the Australian Government over proposed laws to make them pay for news that is shared via their platforms.
In response to the proposed changes, Facebook had announced that it may block news content in Australia. That's what we are seeing today. However, other Facebook pages have also been affected.
Here's what we know so far.
Facebook has restricted certain publishers and people in Australia from sharing or viewing Australian and overseas news content.
This means several things:
The Facebook pages of most news outlets including major newspapers, radio stations and online publications are now showing a greyed out banner image and no posts
Anyone in Australia who tries to share a news story to their Facebook timeline is getting an error message to say something has gone wrong and the story cannot be posted
If you have previously shared or posted "news" stories to your personal or business Facebook pages, the posts may have disappeared.
What does this mean for publishers?
For affected Australian Facebook page publishers, this means:
They are restricted from sharing or posting any content on Facebook pages

Admins will still be able to access other features from their Facebook page and other Facebook services.
For international Facebook page publishers this means:
They can continue to publish news content on Facebook, but links and posts can't be viewed or shared by Australian audiences.
For our Australian community this means:
We cannot view or share Australian or international news content on Facebook or content from Australian and international news pages.
For our international community this means:
They cannot view or share Australian news content on Facebook or content from Australian news pages.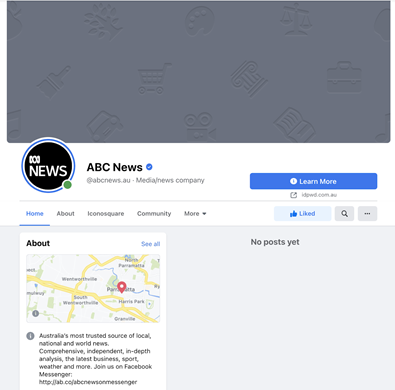 Image: This is what a 'blocked' news page will look like on Facebook.
What is "news" content?
Facebook has not provided a clear outline of what it defines as "news content" and along with traditional news outlets – some government, health and business sites appear to have been blocked, for now at least.
The ABC, SBS, The Australian, Sydney Morning Herald, state and regional newspapers, state and national news television stations and independent publications have all been blocked (at the time of publishing this email) from posting content to Facebook.
While the situation is evolving, other Facebook pages that have been affected include:
Some state health services and hospitals (for example, the QLD Health Facebook page was down for most of this morning but is live again now)

Some support services such as health and domestic violence support pages

Some fire and emergency services and bushfire information pages

Charities including 1800 Respect, Mission Australia, Hobart Women's Shelter and the National Aboriginal and Torres Strait Islander Legal Service

Pages from other non-news organisations such as Cricket Australia.
We imagine that many of these will be re-instated but it is unknown how long this will take.
Where to go for information.
The most important thing to understand is that neither Facebook, nor the internet are 'broken'. This is an intentional move from Facebook, although it may be reversed or partly reversed at any time.
Many business and government Facebook pages are unaffected. The following relevant Facebook pages are still live:
While the Facebook pages for some organisations are down, their websites have not been affected. So if you're looking for information, you can still search for the website in Google or another search engine and go straight to the organisation's website. Other sources of information:
Alternative social media platforms such as Twitter, LinkedIn and Instagram

Individual Facebook pages such as state premiers

Apps by your usual news source

Radio, television and print news.
Do not make any changes to your Facebook business page.
We are hearing that some business owners who have tried to make changes to their Facebook pages today have been caught up in this issue. We recommend not making any changes to your business Facebook page until the issue is resolved.
Leap in! can help.
You can find all our latest stories on the news section of our website.
If you'd like to get in touch with the Leap in! Crew, call us on 1300 05 78 78, visit our website (online chat available) or email crew@leapin.com.au.
Further reading
Staying safe online: Social media
Staying safe online: Using a computer