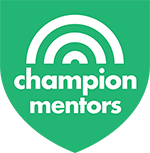 ABN

96 636 179 505

NDIS Registered Provider

Pottsville

,

NSW

2489
Send enquiry
The skilled and caring team at Champion Mentors is committed to meeting the individual needs of every participant and can develop special programs beyond those listed on our services page. Champion Mentors is focused on building a professional team of enthusiastic, empathetic and skilled mentors with a variety of life experiences to better enable us to connect and cater for our clients. Programs include:
Recreation.
Kayaking
Fishing
Rock climbing
Hiking
Bushwalking
Surfing
Swimming/beach/river/pool
Camping
Sporting activities
Fitness
Life Skills.
Street awareness
Shopping – all aspects
Social skills
Using public transport
Mentoring social experiences
Overnight support
Cooking
Age Appropriate Fun Activity Days.
Live Music Events
Theme Parks
Timezone
Cinema
Live Theatre
Sporting Events
Community Markets
Museums, Art Galleries and Cultural Events
Champion Mentors is committed to meeting the needs of our clients and can quickly design programs to address Special Interests.
Adventure Therapy.
Champion Mentors is proud to be a trailblazer in the area of Adventure Therapy and has enjoyed great success with our unique programs. Adventure Therapy combines adventure and outdoor environments with the intention to achieve therapeutic outcomes for our participants. Adventure Therapy is usually done in a group setting and includes, but is not limited to, items in our recreation services.
Our organisation supports:
Culturally and linguistically diverse people
Diagnoses and conditions:
ADHD and associated conditions
Autism and related conditions
Deafness and hearing loss
Other intellectual/learning conditions
Other psychosocial/psychiatric
Service types our organisation supports:
Behavioural assessment and support
Sport and recreation activities