So, you've got the Leap in! app but do you know how it can help you manage your information, NDIS Plan and funding?
In the first of a series of articles on how to make the most of the app, today we'll explore the My Profile section and how you can use it to make the most of your NDIS Plan meeting.
The great thing is that the My Profile section is available to anyone – you don't need to be signed up to plan management to use the app.
My Profile: All your personal information in one place.
All the information that you might need for your NDIS Plan meeting is stored in My Profile. By keeping this section up to date, finding your details, health information, supports and goals will be easy.
Along with your NDIS Plan meeting checklist, the following sections are accessed from My Profile:
About me.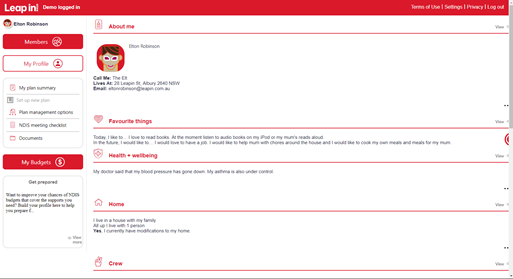 This is where you can record all your personal details, add a photo or select an avatar to represent you (see Elton's avatar above).
Along with your name, contact details and birthday, this section will hold your NDIS Plan meeting date and NDIS number.
In addition to having all your information in one spot, completing these sections will help you access relevant information in other areas of the app.
Impact of your disability on your life.
An important part of your NDIS Plan meeting will be discussing how your disability impacts areas of your life. The app makes it easy to break down the areas into:
Daily Living/Self Care
Communication
Connecting with Others
Learning
Independence.
It's helpful to think about your best days and your most challenging days. If you only focus on your good days, you may get an NDIS Plan that doesn't provide for the supports you really need.
Ask yourself…
What can I do independently?
What do I need assistance with and why?
What kind of assistance will help me achieve my goals?
Is anything likely to change which will impact the assistance I need?
Quick Tip: This is a big section and it's possible you will be entering a lot of information. It's easy to record your answers using the voice to text feature on your device. Look under 'Settings' to turn this on.
Remember, your NDIA Planner or LAC only knows what you tell them: the more details you provide, the better your chances of obtaining the budget you need to achieve your goals.
Favourite things.
The Favourite things section of the app gives you a chance to reflect on the things you enjoy doing and what you would like to learn or change.
This section is important as it helps your NDIA Planner or Local Area Coordinator (LAC) get to know you better. It is also the first step to setting goals (more of that in Part 2 of this series).
Health and wellbeing.
This is a great place for giving a thumbs-up to what's going well with your health and wellbeing and recording what needs to be improved.
The app makes it easy to document areas requiring improvement such as:
The impact of your disability on managing health-related issues
Supports that may help you improve.
The Health related documents section is a great place to store assessments or statements from allied health professionals, doctors and support workers so all your important documents are together.
Get help using the Leap in! app.
The Leap in! app is available in the Apple App Store, on Google Play and for web. If you have any questions about how to use the app to prepare for your NDIS Plan or Pre-plan meeting, contact the Leap in! Crew on 1300 05 78 78.