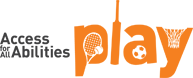 ABN

50 834 404 167

115b Ferrars St

,

South Melbourne

,

VIC

3205
Send enquiry
The Access for All Abilities website will help you the visitor find out more about the activities that may be suitable for you or your family members and friends.
Did you know there are more than 8000 different types of sport? Each of these sports can offer adapted versions to suit all abilities, locations and equipment.
AAA Play has more than 800 different programs across Victoria, from Goalball to Wheelchair Rugby, FIDA to Lacrosse. With so much choice, it can be hard to know where to begin. Access for All Abilities are there to help bring you up to speed with all the ins and outs, some tips and tricks, and the latest and greatest in the AAA Sports offered across Victoria.
Our organisation supports:
Culturally and linguistically diverse people
Diagnoses and conditions:
ADHD and associated conditions
Autism and related conditions
Deafness and hearing loss
Other intellectual/learning conditions
Other psychosocial/psychiatric
Service types our organisation supports:
Sport and recreation activities