We're always looking for ways that we can help our members get the most out of their NDIS Plan, particularly how to connect with supports so they can ensure they are fully utilising their budgets.
So we're really excited about the Providers near you feature that has just been launched for our plan managed members in the Leap in! app.
Our most asked questions.
Two of the things we regularly get asked about by our Leap in! plan managed members and their families is for:
Help to get the most out of their budgets (especially how to make sure there are no unused funds at the end of an NDIS Plan)
Help to connect with providers who deliver the supports and services they don't yet have.
And, how good would it be if the right providers were matched with the specific budgets available for each member in their individual NDIS Plan?
Providers near you does exactly that.
How it works.
Providers near you is available to Leap in! plan managed members in the My Budgets area of the Leap in! app.
Provider connections/referrals are tailored to the funds available in the member's plan, by budget category. A provider's details from the Leap in! Network Directory are shown to the member and they can then choose to send their details to the provider to contact them directly!
What it looks like.
The Providers near you feature is found under the Tracking message in each budget category.
The example below shows the member's Assistance with daily living budget category and demonstrates how much of their budget is available and how much is spent.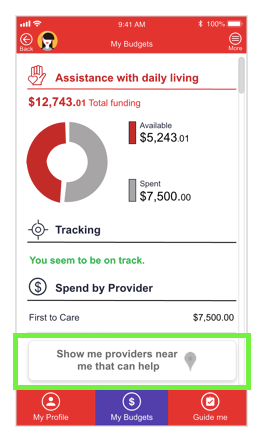 The feature is located on a member's individual budget summary pages in the My Budgets section of the app.
In this example, a list of the member's local providers in Brisbane West – QLD appear that provide Assistance with daily living supports.
The details shown on the More Info page are drawn from the provider's listing on the Leap in! Provider Network Directory. Members can review the provider's information and then send a direct enquiry if they are interested.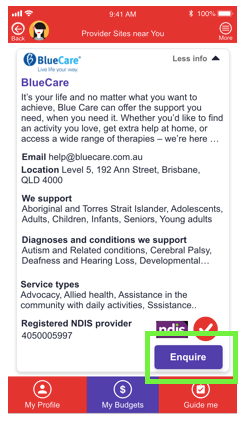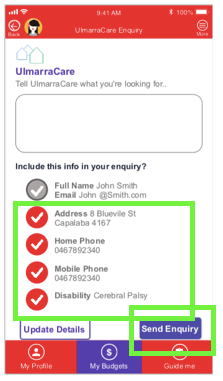 Looking for providers, but don't have Leap in! plan management yet?
You can still access our constantly growing network of providers by visiting our Provider Network Directory to find the right supports to suit your needs.
To find the directory visit our website. Once you are on the home page:
Click on the "Plan Management" menu in the block bar
Select "Find a provider" from the drop-down menu.
Click here for a shortcut to the Provider Network Directory.
For more information on how to use the filter options and to fast track your search, look here.
If you're not already a plan managed member of Leap in! and would like to find out more and unlock these additional app features and more, call the Leap in! Crew on 1300 05 78 78, email crew@leapin.com.au or sign up to Leap in! plan management today.