During COVID-19, we've been hearing about some clever ways families are maintaining therapy routines that have been modified or paused as a result of social distancing.
We recently came across a great article from the latest Source Kids magazine on home therapy hacks by blogger Tara Thompson. Tara's using home therapy to support her four-year-old daughter Willow to fight the effects of cerebral palsy.
Tara has some fantastic ideas for cheap, easy to make, effective "therapy hacks" that you can use at home too.
Today we're sharing her top tips for home-based equipment and fun activities.
Exercise step.
A cheap $20 exercise step can be put to good use for a range of activities including:
Sit to stand
Stepping up and over
Practicing weight shifting with one leg off and one on while engaging in an activity.
Peanut gym ball. 
Peanut shaped gym balls are inexpensive and ideal for core and balance work. Try setting your child up with an activity while they sit and balance on the ball.
Hula hoop. 
Hula hoops are great for practicing walking and tuning into balance. Hold the opposite side of the hoop and move it as they move to help them balance and stay upright.
Dining chairs. 
The humble dining chair is a versatile tool for setting up physio at home. There are so many ways dining chairs can be used to keep children interested and entertained.
Make a barricade by lining the chairs up. Encourage the child to throw things like socks over the top (or to a family member on the other side)
Spread the chairs out and encourage the child to take steps between them, moving the chairs further apart as confidence builds.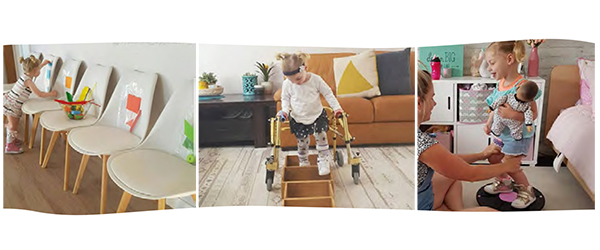 Cube floating wall shelves.
Physiotherapists often use wooden boxes during therapy sessions. Cubed wooden floating wall shelves will do the trick at home. They are a great tool to get your child to practice stepping in and out while bringing awareness to right/left reciprocal movement patterns.
Wheelie board.
Therapy boards with wheels are super expensive but a 'creeper' (board with wheels that mechanics lay on to work under cars) can be just as effective for a fraction of the cost. Kids can lay on their tummy and use both arms to move around, building core strength and bringing awareness to their arms.
Towel ladder.
A cheap decorative towel ladder placed flat on the floor is useful for stepping exercises which help with hip and knee flexion.
Balance board.
Balance boards are great for practicing weight shifting plus balancing and core strength. You can use it in the morning to warm up your child and prepare them for the day ahead. Why not add some music to keep the activity fun.
Sit-to-stand bench.
Convert a cheap hallway table to a low sit-to-stand bench by chopping off the legs at a suitable height for your child.

There you have it!
Easy to make, cheap and effective "therapy hacks" you can do at home. Many of the supplies needed for these activities are available around the home or can be purchased from discount stores like K-Mart or Big W.
By getting creative, you'll always have access to new and interesting activities to keep your child moving and learning.
We appreciate Source Kids and Tara Thompson allowing us to share this story with you.

Leap in! can help.
Here at Leap in! we help families navigate the NDIS every day. If you are unsure of how to get the most from yours or your child's NDIS Plan, we'd love to chat with you about how plan management can help.
If you would like to get in touch, give us a call on us on 1300 05 78 78 or chat with us online on our website.
Further reading.
Resources for parents of children with disabilities.
Kids and the NDIS: Advocating for your child.