Recent changes to the NDIS make it easier to purchase assistive technology (AT) with your NDIS funds, providing you meet the necessary requirements.
The upper limit for automatic approval of assistive technology purchases has increased from $5,000 to $15,000.
Providing you have the relevant evidence, the NDIS will automatically approve funding for AT items up to $15,000. No quote is required.
How this works in practice is still being finalised but here is what we know so far.
The new mid cost AT process.
From 28 February 2022, quotes are no longer needed to purchase AT items valued at under $15,000.
The NDIS still needs some evidence (see below) to ensure you get the right AT. However only AT items valued at over $15,000 require a quote.
Existing quotable codes will be replaced with new claiming codes. Old quotable codes may only be used for claiming where they are specifically listed in your NDIS Plan. New codes must be used for all other cases.
The new three levels of assistive technology.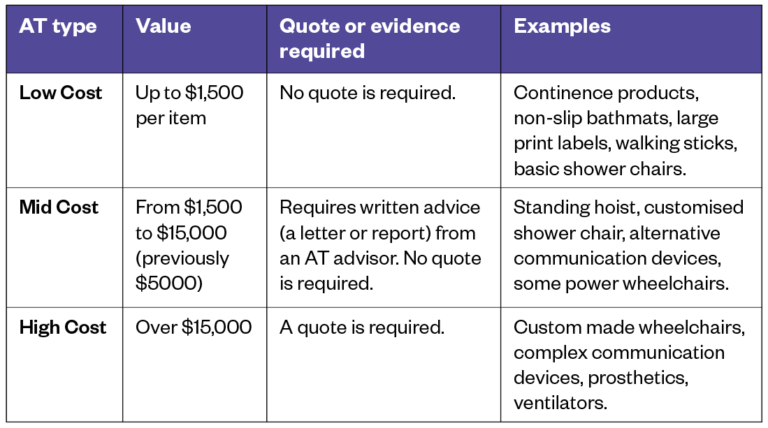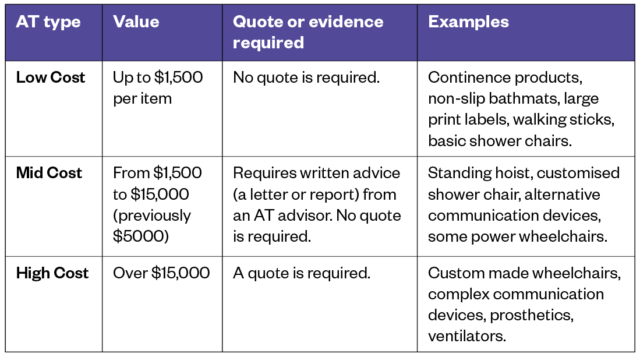 Top tip: Before purchasing higher risk assistive technology, you need to obtain advice from an AT advisor or assessor. Higher risk AT includes bedsticks and other transfer aids, items that potential restrict voluntary movement, motor vehicle adaptations and prosthetics.
What if you have quotable AT under $15,000 in your NDIS Plan?
The NDIA will automatically approve the funding for these items without the need for a quote. If there is more than one valid quote, the case will be manually reviewed.
However, the purchase must still meet all the guidelines for the purchase of NDIS supports and assistive technology, including the reasonable and necessary test.
For plans with an open quotable AT item, the appropriate amount will be added to your NDIS Plan.
The process for buying mid cost assistive technology between $1,500 and $15,000.
If you have mid-cost AT in your NDIS Plan, you will need to obtain written advice, such as a letter or report, from an AT advisor to help you choose an item that is safe and right for you.
An AT advisor may be an allied health practitioner, continence nurse, rehabilitation engineer, AT mentor or other qualified practitioner.
The item must be in a category that has been approved by the NDIS (not high risk AT). A formal assessment is not required.
You must keep a copy of the advice as the NDIS may ask for it later. It's a good idea to upload it to your NDIS myplace portal so it is attached to your NDIS record.
Getting new funding in your plan for mid cost AT.
Written evidence from an assistive technology advisor is required before the NDIS will put funds into a new NDIS Plan.
This includes:
What item you need
How it helps with your disability support needs
Why it is the best value way to help you pursue your goals
The approximate cost.
Any other evidence that may help to demonstrate why this item is right for you may also be useful, including lived experience or any trials you have completed. It's important to take this evidence to your next plan meeting or check-in.
If you are unsure whether the NDIS will fund assistive technology for you, check out the criteria on the NDIS website.
A note on computers and tablets.
The NDIS won't usually pay for purchase or rent of a tablet or a computer to run computer-based assistive technology. This is because these items are a day-to-day living cost.
Regardless of the cost of the item, evidence is required to show that you need the device because of your disability.
View some examples on the NDIS website.
We're here to help!
Leap in! helps thousands of Members achieve their NDIS goals. Our award-winning app helps to manage NDIS budgets in real time, plus we offer monthly Budget Health Checks to help stay on track!
Call us on 1300 05 78 78 to book your free NDIS pre-planning session or sign up to Leap in! plan management today.