Have you heard the new podcast series ListenABLE? Available now, hosts Dylan Alcott and Angus O'Loughlin chat to people living with disability about their lives.
It's a fantastic listen for everyone and it's breaking down stigmas, changing perceptions and challenging what people think it is like to live with a disability.
Like asking the fastest man ever on water skis, Ben Pettingill what it was like to wake up blind at the age of 16. Or chatting with disability advocate and amputee Cherie Louise about dealing with online trolls.
Nothing is off limits.
Co-hosts Dylan and Angus are best mates so the podcast is relaxed and chatty, just a couple of friends sharing a fun conversation about real issues to break down barriers and create a fully inclusive society.
"It's a dream come true to create a podcast like this about disability … I wish there was something like this around when I was growing up to help me feel comfortable with who I was and educate the people around me," said Dylan.
Absolutely nothing is off limits. They're not afraid to ask the tough questions or explore elements of having a disability that are not usually talked about openly – like mental health, bullying and sex.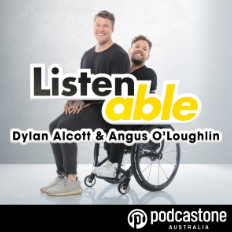 14 episodes … and counting.
There are 14 lively and interesting episodes to date, kick-started by an interview with Dylan, where he talks about what life was like for him growing up, feeling alienated and making friends.
Other episodes include:
Boxer Eliza Green who hasn't allowed cerebral palsy to get in the way of what she wants to achieve
Comedian Adam Hills who talks about what it was like to grow up as an amputee
Moana Hope and her sister Vinny who speak frankly about their relationship, the importance of family and Vinny being a social media superstar
Artist, advocate and autistic person Prue Stevenson who shares what it's like to have autism and the experience of being hypersensitive to sound and smell.
5 star reviews.
ListenABLE has five stars on Apple podcasts and is getting rave reviews like these:
"The best podcast by far. So informative and entertaining. Funny, smart and interesting. I learn so much every episode and feel so many things… Everyone needs to listen to this podcast."
"Through honesty, respect, tough questions and a genuine interest of wanting to learn more about a wider community, this podcast does it so well… This podcast helps to reinforce the need for taking the time to get to know others, appreciate and recognise our differences and strengths, and how our uniqueness makes us awesome."
Where to get ListenABLE.
Listen here: https://www.podcastoneaustralia.com.au/podcasts/listenable
Get it via the Apple, Spotify or PodcastOne apps (or wherever you listen to podcasts).
You can also check out the @ListenablePodcast on Facebook or YouTube where the filmed and captioned podcasts are posted.

Find out more about Leap in!
Leap in! plan management was established to help people with a disability smash barriers to living their best lives and navigate the NDIS with confidence. We provide free resources, information and advice when you need it so you can focus on reaching your goals.
Have a question about plan management? Great! Contact us on 1300 05 78 78 or chat with us online. You can even find out more about plan management when you're there.
Further reading
What is capacity building (and how can it help build independence)?
Breaking news: New NDIS Price Guide!
How to switch from agency or self management to plan management.