Here at Leap in! HQ we're always excited when it's Paralympics time. It's great to see Australia doing so well in the medal tally.
If you're wondering how you can cheer on our Australian Paralympic team and watch all the action, take a look at the Paralympics Australia website for all the details.
As we continue to celebrate the achievements of our athletes at the Tokyo 2020 Paralympic Games, we're also thrilled to celebrate the launch of the WeThe15 campaign.
The biggest ever human rights movement.
WeThe15 was launched in the lead up to the games and has been called 'the biggest ever human rights movement'. It references the 15% of the world's population who have a disability, which equates to over 1 billion people.
The campaign aims to "end discrimination towards persons with disabilities and act as a global movement publicly campaigning for disability visibility, accessibility and inclusion". [1]
Spearheaded by the International Paralympic Committee (IPC) and the International Disability Alliance (IDA), WeThe15 is supported across the globe by organisations including UNESCO, Special Olympics and Invictus Games Foundation.
The campaign is set to run for 10 years and will call upon governments, businesses and the wider public to get involved.
Sporting events will be a key focus with at least one major international sporting event for people with disabilities showcasing WeThe15 each year between now and 2030.
Campaign gets the royal nod.
Prince Harry, The Duke of Sussex, Patron of the Invictus Games Foundation, said: "One of the reasons why I was inspired to create the Invictus Games was to help destigmatise physical and invisible injuries and give the men and women who have experienced them a platform to show the world that they and we can accomplish anything, when we put our mind to it. Everybody at the Invictus Games Foundation is honoured to join the WeThe15 campaign and believe in its mission to inspire meaningful change in communities around the world."
In addition to partnerships with major events, the campaign launched with a number of high profile activities:
A purple symbol which represents inclusivity and will be used across all aspects of the campaign.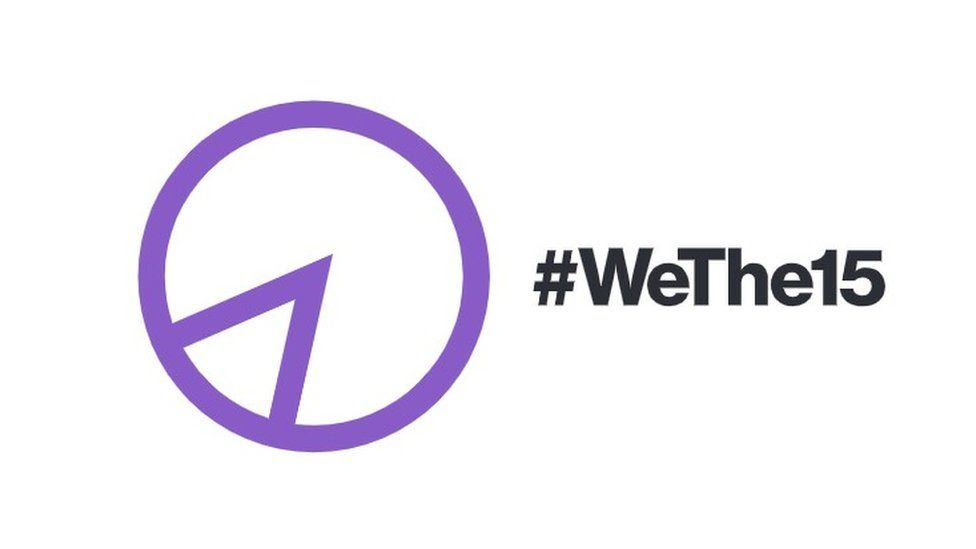 [Image description: A circle shaped purple symbol with black writing saying "#WeThe15".]
Buildings and landmarks light up purple: On 19 August, 125 iconic landmarks around the world were lit up purple, including New York's Empire State Building, Rome's Colosseum and the London Eye.
Tokyo 2020 Paralympic Games: The campaign film was played at the opening ceremony to an estimated global audience of 250 million people.
Changing attitudes, creating opportunities.
Aligned with the UN 2030 Agenda for Sustainable Development and the Convention on the Rights of Persons with Disabilities, WeThe15 aims to change attitudes and create more opportunities by:
Putting persons with disabilities at the heart of the diversity and inclusion agenda
Implementing a range of activities targeting governments, businesses, and the public to drive social inclusion for persons with disabilities
Breaking down societal and systemic barriers that are preventing persons with disabilities from fulfilling their potential and being active members of society
Ensuring greater awareness, visibility, and representation of persons with disabilities
Promoting the role of assistive technology as a vehicle to driving social inclusion.
Leap in! puts people before profits.
Did you know that Leap in! is a not-for-profit, which means we put people first and reinvest in Member services rather than directing profits to owners and shareholders.
If you'd like to speak to a member of our crew contact us via our website (online chat available), call us on 1300 05 78 78 or email us at crew@leapin.com.au.
[1] WeThe15: A global human rights movement for the 1.2 billion persons with disabilities
Further reading
Will the NDIS fund sporting equipment or membership fees?
Sports activities: What will the NDIS fund?
ListenABLE: RJ Mitte on representation and disability as a strength.