Here at Leap in! HQ we keep a close eye on the latest developments when it comes to accessibility and love seeing some of the incredible innovations entering the market.
Today, we're sharing some of the latest and creative inclusive products we've come across that may help to make life a little bit easier.
Nike GO FlyEase.
The ultimate hands-free shoes, Nike Go FlyEase are designed with accessibility in mind. They're quick and easy to get into thanks to the slip-on design and hinged heel. They can be removed by pushing the heel with the other foot. Nike GO FlyEase are available in men's, women's and kid's sizes.

[Image description: A right foot Nike Go FlyEase shoe is sitting on green grass with a blue sky in the background. It is a side on view of the shoe with the toe facing right. The shoe is mostly white with softer shades of blue, orange, green and pale yellow and a black toe and lining.]
Routine charts – CPA Challenger Routine Planner.
We just love these structured daily and weekly schedules from the Cerebral Palsy Alliance. Simply print and cut to create your own custom schedule. Daily schedules are broken into morning, afternoon and evening sessions. Activities such as appointments, meal times and free/family time are colour coded and you can customise your schedule by adding notes.
For Superlearners (aged 0-12)
For Challengers (aged 13-30)
For Adults

[Image description: A screenshot of the Cerebral Palsy Alliance Challenger Routine Planner. It is a three shades of green and white grid split into 3 sections with text and symbols. Some text is unreadable as it is a small image of a larger document but some sections include items such as quiet time, activity time, afternoon break, therapy, cooking and family time.]
Pjama.
School trips, camp trips and sleepovers are back! Pjama is the ultimate washable bedwetting nightwear for children and adults. Liquid remains in the pants or shorts and the outside (as well as the bed) remains dry. They're functional, discreet and comfortable. Designed in Australia specifically for sleeping, Pjamas have a breathable waterproof membrane and super absorbent material.

[Image description: A mature age couple are sitting in their bed laughing and wearing mwatching white pyjama shirts. The man on the left has a taupe blanket over him and the lady on the right is sitting on top of the blanket showing her wearing a pair of navy blue Pjama shorts.]
Xbox adaptive controller.
Designed primarily to meet the needs of gamers with limited mobility, the Xbox Adaptive Controller features large programmable buttons and connects to external switches, buttons, mounts and joysticks to help make gaming more accessible. The controller requires external devices for gameplay (sold separately).

[Image description: The Xbox Adaptive Controller is shown on a white background.  It has several parts, including a white box with two large lack control pads, a single hand black joystick controller and two separate round control pads, one large on in green and a smaller red one.]
Tube feeding on the go.
These Tubiefun modified backpacks are fantastic for any Tubie who is on the move or on continuous feeds. The side opening allows for easy access to tubing and an internal Velcro strap secures the bottle. The pump can be placed into the large front pocket which opens into the main section where the feed can be accessed. Compatible with Z & Co. reusable pouches.

[Image description: A toddler is standing in a garden with green grass and holding a tree.  We have a view of him from behind and he is wearing a backpack in a red fox shape, with a tube subtly coming fomt he left hand side. The image has a text overlay reading "Tubie Fun" in white font.]
BUTTS Undies with Attitude.
Bright, bold and fun, BUTTS™ Undies with Attitude are designed to improve the lives of children with incontinence. Dual inserts provide maximum absorbency and will last 2-4 hours for day use. Choose from a range of colourful prints made from skin friendly materials. Even better, they are a machine washable, reusable alternative to single use products.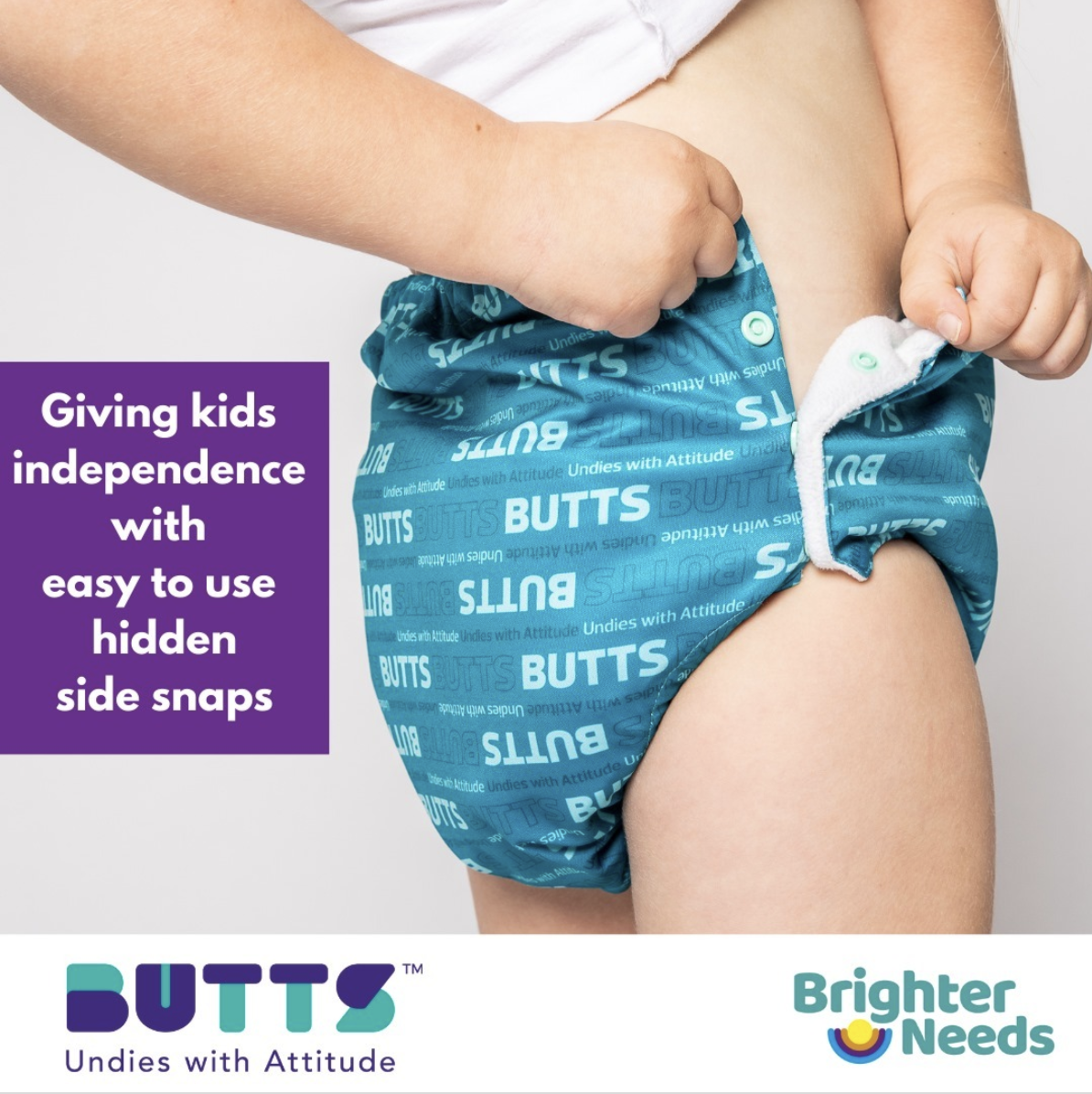 [Image description: The bottom half of a child's torso and tops of their legs is side on showing a pair of teal Butts underwear covered in the Butts logo, highlighting the easy clips on the side. There is a purple box to the left with white writing saying "Giving kids independence with easy to use hidden side snaps". There is a white border at the bottom of the image with the Butts logo on the left and the Brighter Needs logo on the right.]
Remindables starter set.
Designed by a speech pathologist as a practical tool to develop independence for children, Remindables® are colourful clip-on tags that easily clip onto a bag or backpack. Colour coded and featuring an image and word, they help remind kids what to pack for the day and also what needs to return home.
Over 90 tags are available, representing items that are commonly left behind such as a jumper, a hat, event reminders such as swimming practice or other items such as an EpiPen. Allergy alert options and blanks are also available.  The starter set comes with a strap and ten tags which you can choose to suit your child.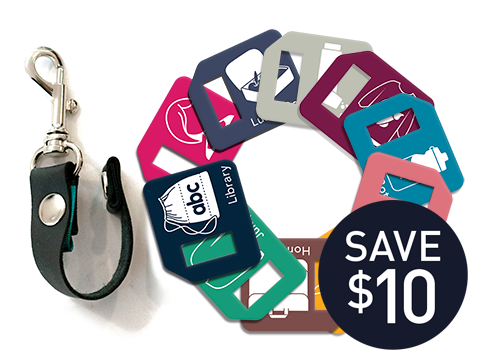 [Image description: A promotional image of a set of ten Remindables aranged in a circle in an array of colours on the right with the Remindables black clip with silver metal attachment for fastening the Remindables.]
Tommy Hilfiger Everyhuman clothing.
The Tommy Hilfiger Everyhuman range of lifestyle-driven adaptive clothing and footwear is now available in Australia. High quality, stylish and easy to use, the range features subtle adjustments to mainstream fashion – easy back openings, one-handed zippers on shoes, easy open necklines, wide leg openings and clothing for the seated position. From jeans to t-shirts, sweatshirts and workwear, the range includes men's, women's and kid's wear.

[Image description: A group with two men, one boy and two young women all of different abilities each modeling an Everyhuman outfit and smiling with each other. ]
Lego Braille Bricks have landed!
Designed as an educational tool for children who are blind or have low vision, Lego® Braille Bricks have raised bumps that correspond to a letter or character of the braille alphabet.
While not for sale to the general public, they are being distributed by Vision Australia to schools and education departments with eligible students aged between 4 and 18. Schools and educators can register their interest to learn more and are supported with webinars and resources.

[Image description: A yellow table top covered in many braille Lego bricks in a range of colours including red, green, blue, yellow and white.]
Vegepod.
Keen to test out your green thumb? Vegepods are an ideal way to start with no mess and no fuss. This raised garden bed kit is self-watering, elevated and portable so it's perfect for renters, small yards, courtyards or even apartments. It can easily be raised to waist height (up to 80cm) with the accompanying Vegepod stand.
You can grow just about anything in the pods but they're ideal for salad greens, herbs, silverbeet and most winter veggies.

[Image description: A image of a Vegepod on a white background which is a large black tray style garden bed on legs. It has a grey coloured canopy that is opened to show a large group or green plants. There is an irrigation hose connected to the canopy list and 9 key nots on the products highlights,  reading in clockwise order around the vegepod: commercial grade canopy, mist spray irrigator, micro climate, stands or trolleys, overflow hole, optional wheels, one foot soil depth, self watering, permeable mesh.]
Leap in! can help.
Did you know that Leap in! has hundreds of providers you can find on our Provider Network Directory? Alternatively, you can talk to one of our crew by calling 1300 05 78 78 or emailing crew@leapin.com.au
Further reading
Finding the right Providers near you.
Does the NDIS fund sensory equipment?
Mobility aids: Where do they fit under the Capital supports budget?